Embedded is a name for a control system which is in most cases integrated directly into a controlled device. It has a distinctively lower hardware requirements thanks to optimized software functionality. Crucial benefits are:
high reliability
long lifetime
low price
small dimensions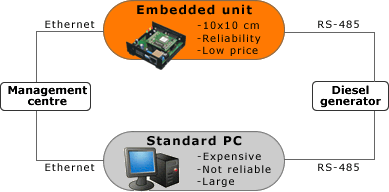 Schematic picture of interconnection between plant's management centre and dieselgenerator.
PC solution requires computer with licensed operating system, RS485-to-serial converter, SNMP service, e-mail + SMS sending software and complicated implementation of proprietary protocol for a management unit.
Embedded solution shows a possibility of integrating all needed components into a small box (10x10cm) and save money on hardware, SW licences, and get device with significantly higher reliability.